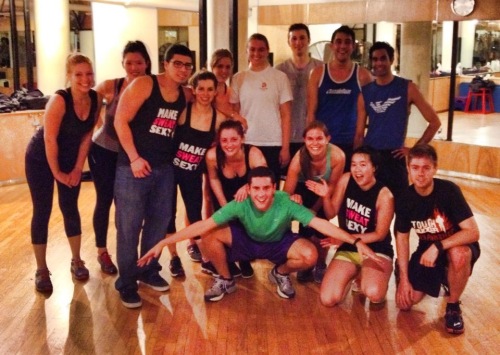 Want to know more about the creator of our "Applause" dance?
Are you originally from New York? Tell us a little bit about your life outside 305.
I'm originally from Allentown, Pennsylvania, and went to school for architecture at Syracuse. I currently live in Chelsea with my boyfriend and work as an architectural designer at Diller Scofidio + Renfro.
Why did you first start coming to 305 Fitness?
I came to my first 305 class with my friend Kristine back in January 2013. We had a Groupon for 2 classes. We had fun taking an aerobic dance class in Syracuse together and had been looking for one in New York to try. Growing up, I always loved dancing to Britney and Beyoncé in my basement, and am so thrilled that I have found a legitimate reason to continue to do so as an adult!
What was your first your first class like?
I'll be honest… it was really rough! I remember loving the jams and all the moves right off the bat, but my out-of-shape body wouldn't let me do it all. I thought I knew what cardio dance was, but this blew my mind at how much fun and how much of a real, ENTIRE-body workout it could be!
Did you workout before 305?
Rarely. Before 305, I never viewed working out as a real priority of mine but rather as something I had to get through. I would only ever do it when I felt extra guilty about my poor health habits – a kind of "punishment," I guess. There was a point when I had just accepted that I would be a bigger guy since I hated exercising so much. If you told me a year or two ago that I would be waking up at 7:00 am on my day off work to workout I would have said "NO F*ING WAY." But now I'm totally there, and I actually enjoy trying new workouts and challenging my body in different ways.
What motivates you push through a tough workout?
I really feed off of the energy of others. The 305 team's infectious energy is incredible! And of course when that beat drops in that song I love, I can't help but going all out!
If you were a 305 instructor, what would your moniker be?
The Turn Up
What is your favorite song to make sweat sexy?
Applause!!!!! (fun fact: Jack actually developed the choreography for "Applause" that we all dance to today!)
What is your favorite song to make sweaty sex?
Gimme More ;)
How does 305 inspire you?
305 completely inspired me to change my habits and reach for my goals. Once I started coming regularly, I began to see how fun and rewarding it can be to challenge your body. 305 has given me an entirely new and positive outlook on fitness.
Tell us about the transformations you've seen with 305. (mind, body, weight loss, stress level)
I am SO much happier on days I do 305. In general, I think clearer, am more positive, and deal with stress SO much better. I've learned so much about my body in the past year, it's incredible. Now, my favorite feeling is when I can literally feel the endorphins rushing through my body. I can't stop smiling. I had never experienced this sensation before!
How has your health and weight loss affected other aspects of your life?
I've become more confident and proud not only in my self-image, but also in challenging myself. I'm also much more of a morning person, and tend to just be a healthier eater with a ton more energy.
Any favorite anecdotes or memories from 305?
1) The first time Sadie pulled me to the front to lead my Applause choreography was a big moment for me. I realized I had come so far from that first class I took with her, and how much I really turned my whole life around.
2) I had a fantastic time doing a special 305-birthday party with all my friends! I was so into it I prepared some choreography to a custom playlist and led a good deal of the class.
Okay, we gotta know: Lady Gaga, Beyoncé, or Rihanna?
I'm def a Gaga – a bit of an artsy-fartsy weirdo myself.