A STEAMY VALENTINE

Lookin' to start the fire before Valentine's? Wanna improve ya sex life … for good? Join us on Saturday, Feb. 13th in our Village studio in NYC for this unforgettable couple's workshop.
This 90-minute workshop is sure to enhance your confidence, passion, openness, and sensuality forever (seriously). Plus, you'll learn industry secrets from sexpert Rachel Hoffman, with her top exercises couples can use to enhance their sex life. You're welcome to bring a friend in lieu of a romantic partner.




YOGA 4 BETTER SEX
This 60-minute yoga class will leave you feeling luscious and limber. Bring your partner and dive deep into this sensual and spiritual journey of yoga. Focusing on hip opening postures that develop the root, sacral, and heart chakras, this class help you and your partner awaken your sexuality, confidence, openness, and trust.



SEX WORKSHOP
This 30-minute workshop, led by sexpert and professional sex therapist Rachel Hoffman, features the best quick-and-dirty exercises couples can practice to enhance their intimacy and sex life.





MIAMI POP-UP

We're taking ((305)) to its city of inspiration: the one-and-only Miami. Join us on Saturday, Feb. 6th when we make sweat sexy in provocative, alluring, wet-n-wild Miami.

((305)) Fitness is New York and D.C.'s hottest workout craze and our founder, Sadie K., and her team of sizzlin' instructors will be leading an exclusive pop-up in Miami for one day only. This is a workout you don't wanna miss.

Saturday, Feb. 6th @ 12PM @ DAF Dance Studios, 1501 SW 8th St Miami, FL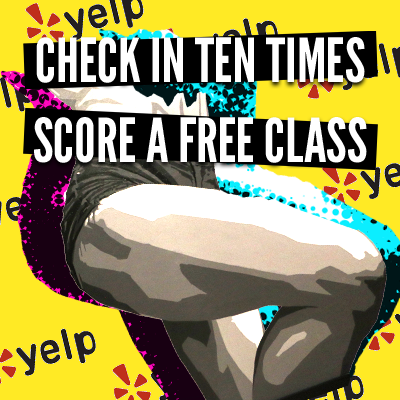 CH-CH-CH-CHECKIN OUT

One easy way to score a free class this season? Check-in on Yelp 10 times at our new Midtown location.


Simply download the Yelp app, check in after taking class at our Midtown location, and shoot us an email once your ten check-ins are complete at info@305fitness.com to redeem your free class. Badabing badaboom.


The fine print: only applies to our MIDTOWN location. Only valid for your first 10 check-ins. One free class per client.





POST & SCORE
Post a pic on
insta or FB
, tag @305fitness and use the hashtag:
#TheNew305
.
We're choosing
a winner every week
to score a free class.


WE'RE HIRING


We're hiring for a full-time Studio Manager in NYC.


We are looking for an uber-organized, ambitious and (very) hard worker, for an extremely dependable go-getter.

We're seeking that special someone who thrives in a fast-paced and at-times stressful environment while keeping a cucumber-cool front.




HOT NOW: SONG OF THE WEEK


Every week, our DJs add
more music
to our sick Spotify playlists. So you hear the
hottest shit first
.
This week in class, you might catch this hit blasting from our speakers. What better way to escape the blizzard than
"Summer in the Winter"
?