We know you gotta feel sexy to #MakeSweatSexy, and that includes what you wear when you're dancing your ass off. For those female-identifying junkies out there, one of the most important workout-wear choices you make is the sports bra you wear. You gotta keep those lady lumps in place while still being able to shimmy!

We've got the three things you need to keep in mind when shopping, plus we asked the ladies of the ((305)) fam to share some of their faves.
---
KNOW YOUR SIZE
By now you've heard that a crazy large percent of ladies are wearing the wrong size bra. Don't be one of them, especially when you're twerking out! Either go get fitted by a profesh, or check out online resources
like this
to help you make sure you're looking for the right size.
In general, the bra that fits you best is going to be tighter than your regular bra, but not so tight that you can't breathe or move around, duh. To get a sense of whether your bra ry doing a few jumping jacks. If the band of the bra moves up, kick that bra to the curb and find one in a smaller size.
You also want to make sure the straps -- whether they're wide straps to distribute weight more evenly or racerback straps to hold everything tighter to your body -- aren't so tight they dig into your skin or so loose that they fall off or slide around.
FIND THE RIGHT SUPPORT
You know you're gonna be shakin' what ya mamma gave you when you come to class, so you want to make sure you're wearing a sports bra that hugs you in all the right places without restricting you while you get your groove on. First you'll have to decide whether you want a compression sports bra (think, tight fabric that holds everything in) or an encapsulation sports bra (think, individual cups to support each side individually).
For support like no other,
DC instructor Marie
recommends the Nike Pro Classic sports bra.
"I have found no other bra that does what this masterpiece does for my wild hooters who have a mind of their own," she says.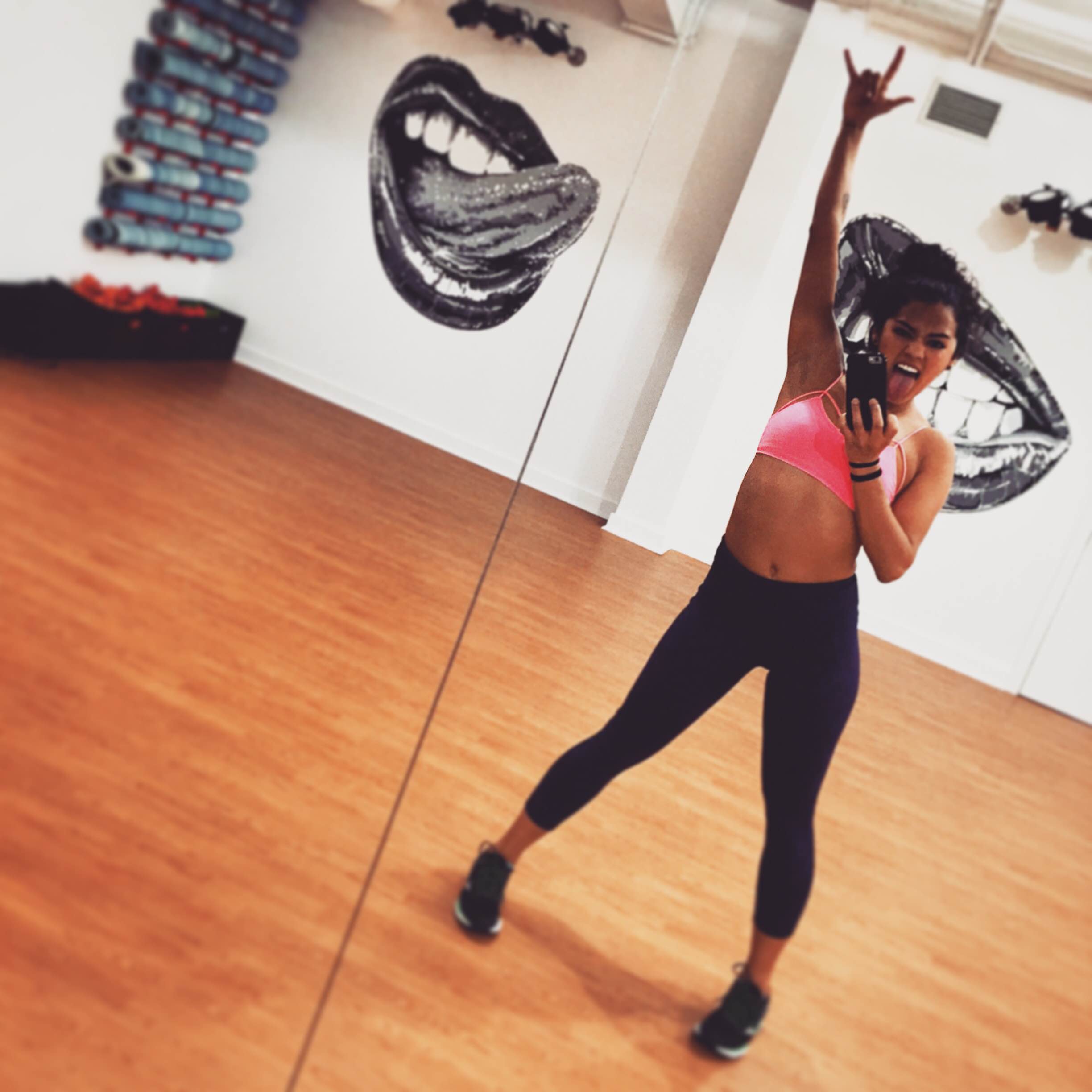 If you're in need of a little less support,
NYC instructor Kalyn
recommends this light and comfortable bralette from Aeropostale.
"It moves and breathes easily as you're workin' up that sweat and looks fab under those blacklights," she says, making it perfect "for ladies rockin little tatas."




And if you can pull it off, forget the sports bra all together. Our
HBIC Sadie
loves to rock some chest-hugging crop tops that keep things in place while showing off those abs we all envy.
"I've found some badass crop tops that are a great substitute for sports bras," she said, including the ((305)) crop top and a classic one from American Apparel.




FIND A STYLE TO HELP YOU STAY COOL
If you're giving it your all, you're gonna be sweatin' way before you get to sprints. You need to find a bra that keeps you cool, either through moisture-wicking fabric, mesh paneling, or some skin-baring straps.


NYC instructor Danielle
has a favorite Lululemon bra with a strappy, open back to keep her cool in class.
"I love how open it is in the back while still being supportive," she says. "It has a lot of spice, so it is great to #MakeSweatSexy in, and [the fact that a junkie gave it to me] makes it super special to me."





OUR FAVES
Most importantly, if you're going to be your badass self in class, you need to find a bra that makes you feel good and look good. Since our instructors know how to #MakeSweatSexy, we asked for some of their recommendations


Boston instructor Wisty
loves this strappy, supportive Lululemon number.
"It holds everything in place so I don't have to worry about adjusting myself in class," she says.
She has it in yellow, which "makes me feel energetic and sexy, but also a little silly because I am highlighter yellow!"



NYC instructor Natalia
rocks this black, peek-a-boo bra from Forever 21.
"It's black (my favorite color), got clean lines, and makes me feel classy as hell as I booty shake my way through class," she says.

DC instructor Juli also has a Forever 21 sports bra standby for when she's not planning on wearing a shirt.

"My fave is this one that says 'No Days Off' and legit has a zipper all the way down the front. It's fun, fierce, and flirty."




We're absolutely feeling the palm print trend right now, especially when it comes to sports bras.
Really, nothing screams ((305)) like some palm print workout gear coupled with some bare, sweaty skin.
Check out
Sadie's
favorite round up.