Most people go to the gym to get that
bangin' bod
and
bomb booty
, but ((305)) is about
so much more
.
Our attitude of joy and freedom is one of the many things that sets ((305)) apart from the rest, so we asked our HBIC
Sadie
where her inspiration has come from. Plus, some junkies weigh in on their
fave things
about ((305)).
---


((305)) is named after Miami's area code. How did Miami shape the ethos of the brand?

There is an obvious tie-in to Miami with our class -- the DJ, the lights, the rave environment, the cool, sexy, hot ambiance we create. But Miami was also an inspiration in helping me understand the values that shaped the brand. In some ways, I named the brand after the place where I felt most vulnerable and powerless, as an homage to the difficult spiritual work we must do as we grow older.
I grew up in an affluent part of Miami that is overrun with a general mentality that only two things matter: beauty and money. I grew up in a culture that prioritized your looks above anything else. I had a sister who struggled with an eating disorder for years. My mom was addicted to exercise and dieting. By the time I was ten -- ten!! -- I was keeping a secret diary of my calories. I was miserable, isolated, and obsessed with my weight.
When I was in high school, I was at the gym when this crazy lady who taught Zumba pulled me into her class. She was having so much fun. Her spirit was contagious. And I was good at it! Who knew?? And when I left, I realized I hadn't spent the entire time counting the calories or watching the clock. I felt … human.
How did you go from taking class to leading class?
When I left for college, I was intensely afraid of losing this special class that had truly given me life. When I arrived at Brown in 2008, and saw there was no Zumba on the schedule, I asked to teach it. I didn't care that they paid me peanuts or if people came or not. What I knew was that my life depended on this class. And if no one was teaching it, well then, I would have to teach it.
This is a common story I hear from strong entrepreneurs. They see a problem, sometimes one very personal to them, and since they don't see anyone else fixing it, they step up to the plate and fix it themselves. That's how this whole thing started. I didn't find any classes like this, so I decided to teach it myself.
Sounds like you fixed the problem for yourself. How do you relate to exercise and how has that changed over time?
I've come to a place in my life now where I am much more grounded in who I am. I don't need to work out to feel okay. But back then, at 18 years old, this dance class was this one thing separating me from consuming self-obsession and freedom. It was a matter of survival.
Today, exercise gives me meaning in a different way. I feel my soul come alive. I feel more creative, spontaneous, and joyous during a ((305)) class. It's taken me a long time to become happy with who I am, and ((305)) has played a tremendous role in getting me here.
How do you think that mindset translates to twerking in class, and how does it help other junkies?
((305)) is about getting out of your comfort zone, stepping up to the plate, taking risks, laughing at yourself, and celebrating everything that makes you human (not a perfect robot, but a human). Everything about this class is
more
than about your body. It is a spiritual journey. It is moving meditation. It is shameless fun, without pressure to conform.
I've considered every aspect of the class -- from the vibe of the music, to how we move around the class, to the messages we convey in our branding-- to be about embracing every aspect of your being.
Some examples...
The workout is so physically challenging, you have to develop a sense of trust in yourself to get through it. The dance moves are so ridiculous at-times, you have to laugh at yourself and get comfortable being silly. The instructors are so genuinely positive, you feel you are being elevated, never put down.
I have heard many times that our studio is truly unique in its openness. Clients come here as strangers and they leave as friends. I love to see a new client come in and watch as other junkies show him or her around. We look out for each other. It's very special.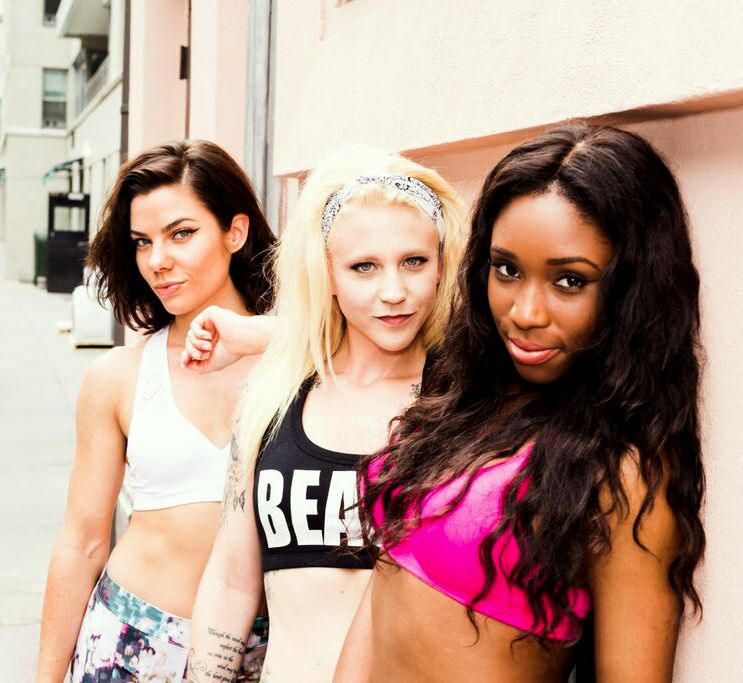 How do you make sure those good vibes are the same, whether you're in NYC, DC, or Boston?
For me, the most important thing has been finding instructors who truly live and breathe our ethos of joy and acceptance. Our instructors are the most fun, hysterical, crazy people and their lack of self consciousness is what inspires us all to express our own uniqueness.
When we hire instructors, we drill them on why they want to do this. We seek instructors who are agents of change, who are genuinely positive, uplifting people with a good attitude, and who know how to have a shameless good time. The instructors set the mood in a class so it's vital they are dope, crazy cool human beings with their hearts in the right place.
What are some of your favorite junkie success stories?
I've seen it all! Dancers and actors who have told me ((305)) allows them to enjoy movement without the pressure of being criticized. Moms who have told me ((305)) allows them to reconnect to their sexuality. Young teens who have told me ((305)) is their release from the drama and popularity contests of high school. I have so so many stories.

What's one junkie success story that sticks out in your mind?
Perhaps my favorite was one woman who left the studio after class and ran back in moments later. "I just want to tell you. I'm finally coming out to my parents tonight. I knew taking ((305)) before would give me the courage to finally do it." This class inspires people to embrace their uniqueness and encourages people to be bold, be brave.


And our junkies feel the same way...
For junkie Tiffany M., ((305)) gives her a workout that makes her feel connected to her body:
"By the time I was 25, I had already spent years working at a career I didn't love. I started working out in hopes of distracting myself. I would run for miles so that the pain of the run would distract me from all the other stuff that I couldn't force myself to face. I wasn't honoring my body. I wasn't loving my body.
((305)) changed all of that for me. It forces you to connect with yourself rather than distract you. From my very first class, I knew that there was something spiritually different about this workout. I left feeling empowered, full, and happy as opposed to drained, empty, and exhausted. I felt sexy, I felt beautiful, and I felt equipped to deal with any challenge that came my way so much more efficiently than before. It was the first (and only) workout that I've ever found that pushed my body to the limits while encouraging me to honor and love myself with every move."
Junkie Liviya K. learned to bring out her badass self:
"In the past 3.5 years, ((305)) has become a tent pole of my day-to-day life, helping me to navigate my often stressful weeks with a strength and peace of mind that I never deemed possible. At the end of a class, coming down from that adrenaline, I feel balanced and rejuvenated as if I just had the best spa experience ever, even though I was just dancing my butt off. It's the big hug that I didn't even realize I needed, a sense of release.
Beyond the weight loss and the toning, ((305)) has taught me that hey, I actually am a warrior! Who knew? Pushing myself through the ups and downs of each of those 55 minutes -- having Sadie or any of the other instructors cheering me on, not allowing me to give up -- has taught me resilience. Turns out I am mentally capable of overcoming fears, self-doubt, the self-defeating voice in my head saying "you can't do this." What I've discovered through this class, is, yes I can!"